This year we celebrated the first day of school together with our friends from the private school "St.Cyrillus and Metodius".
Our two institutions work together on arts, computers and sports, supporting each other with all available resourses. We share personnel, facilities and resourses, especially in the pre- and primary education. We take our children to the school for computers, Lego construction lessons and sports three times a week. Our teachers and artists work with the school classes on arts in the same time.
On September 15th we combined our efforts to make the day festive and full of promise.
The mini-busses took our children to the school where schoolchildren, parents and teachers have already gathered.
One of the high school students welcomed the preschoolers and the first graders and greeted parents and teachers. Then we listened to the school's anthem. After this solemn moments things were in our hands and a joyful show went on for about half an hour.
Children, actors and singers mixed together, entertaining each other with poems, songs and sketches. A clever clown examined the wit of children. There was even a special quiz for parents and teachers. And of course for every correct answer there was a prize / not much, but something useful for school - pens, rulers, rubbers, notebooks, and such/. When we were all sure that children and teachers are perfectly ready for the new school year, the director of the school invited everybody in.
Young students went to their classrooms, while our preschoolers visited the cabinets where they will have their first lessons in computers, Lego construction and sports.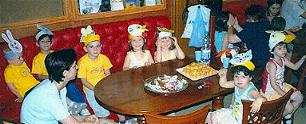 Then everyone was treated accordingly...