Spring Day activities:
Map activity:
The map of Europe is decorated with numbered stickers and small paper flags on each of the European countries. A child starts counting, until another one says "stop" at a certain number. The children find where the number last mentioned is on the map, and have to name the country that has the same number. Then they look for the country's flag and put it beside the number on the map.
The teacher shows them pictures and postcards from this country and explains about the nature, climate, people, and most famous cities or monuments of the country.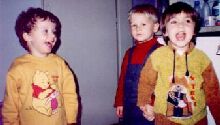 Bookshelf activity:
Children pick one of the paper flags and then look in the book shelve for a book with a matching flag stuck on it. That means the book contains stories from the chosen country. The teacher reads a text and afterwards they discuss on the plot, heroes, and morale of the story. The teacher shows illustrations and pictures related to the text. Then children draw illustrations on the most remarkable episode.
We practice different games, and talk about Europe as a big home for all of our families, our communities and all of us.
Teachers help the children to learn more about Europe through fairytales, postcards, paper flags and an European map.
<![if !vml]>
<![endif]> Spring workshop in the National club of photo reporters
Children

Draw
Spring
as they see it, and save their drawings for the exhibition. We
exhibit
on the walls every new item received by our European partners
Children and parents work together, folding and cutting out a great lot of paper flowers, butterflies and golden European stars.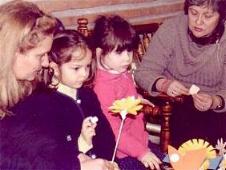 European poems, songs and teatralized stories. Children show what they have learned about the different countries.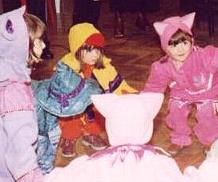 A concert show presented by children.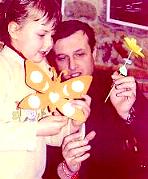 A quiz for parents - Countries, capital cities, and national flags.
<![if !vml]>
<![endif]>
OPEN AIR EXHIBITION "Spring Day in Europe" in Sofia center
On March 21, we pinned all the pictures on the trees in front of the Presidency for everybody to see. We also hanged the "Spring in Europe" poster, and the silk flags of all our 14 partner countries: